A School Board Special Meeting will be held on Thursday, November 16th @ 5:00pm.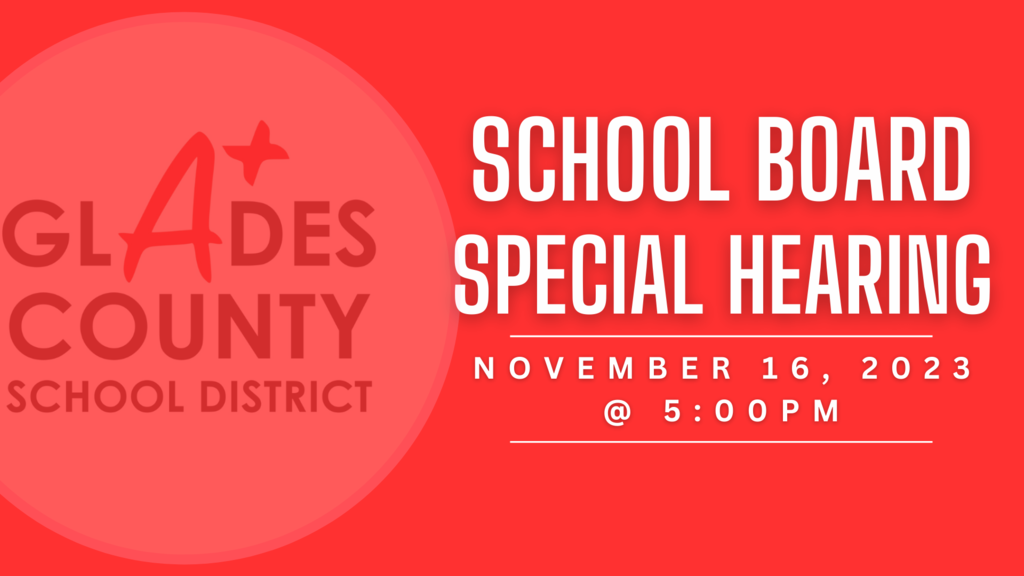 Moore Haven Middle-High School Open House will be held on Monday, November 27th from 4-6pm. This is a great time for parents to catch up with their child's teacher!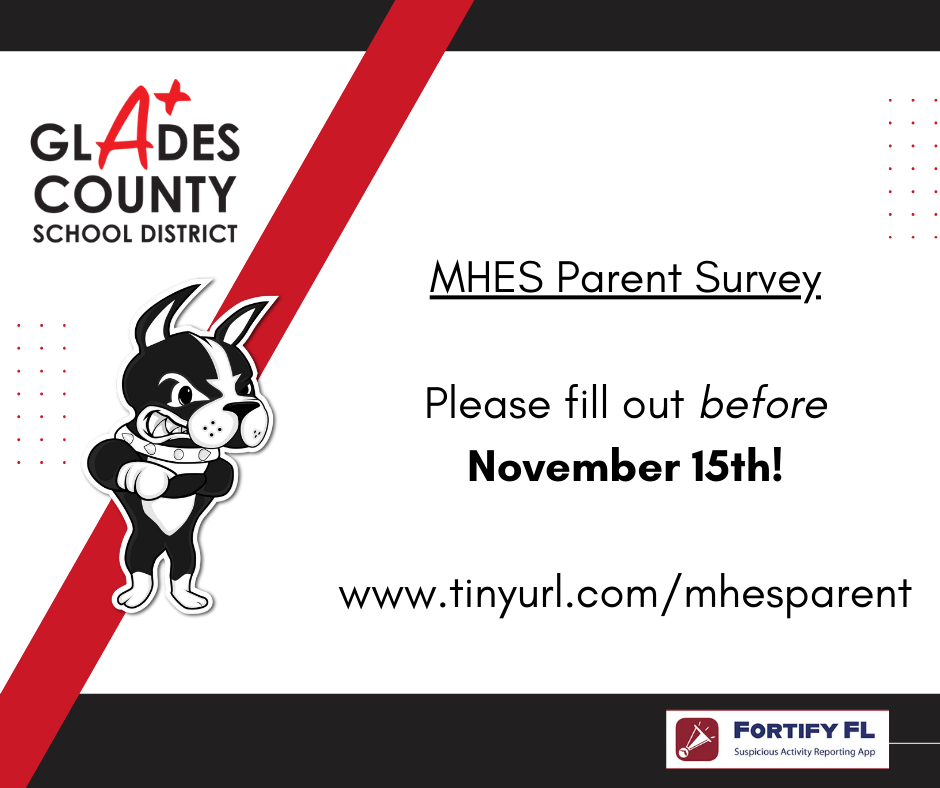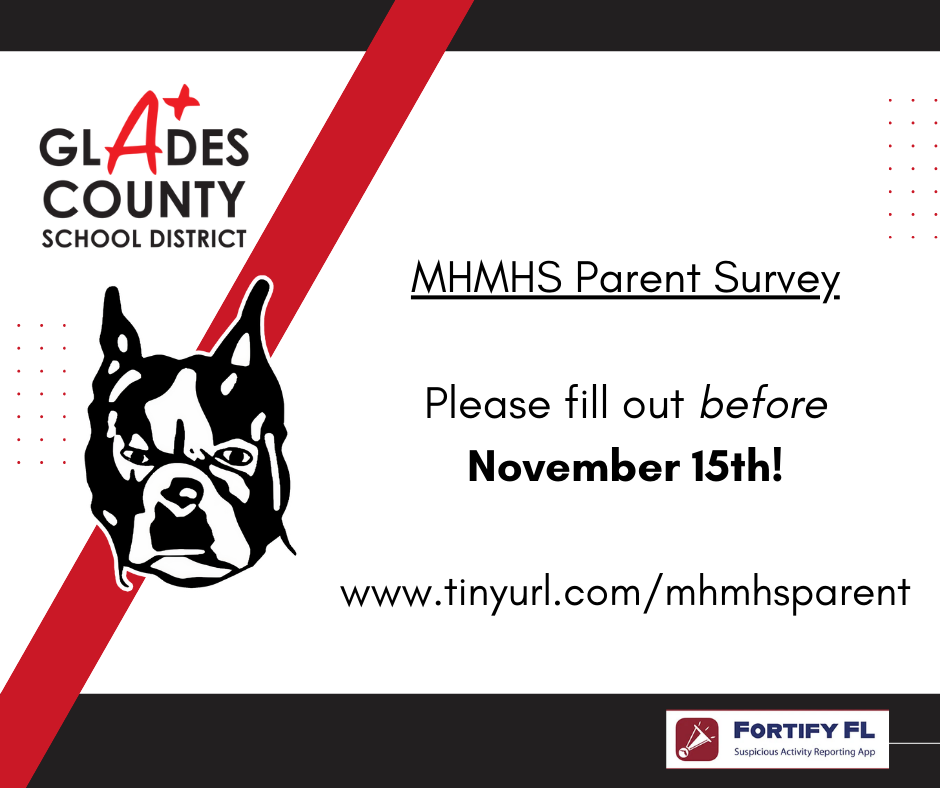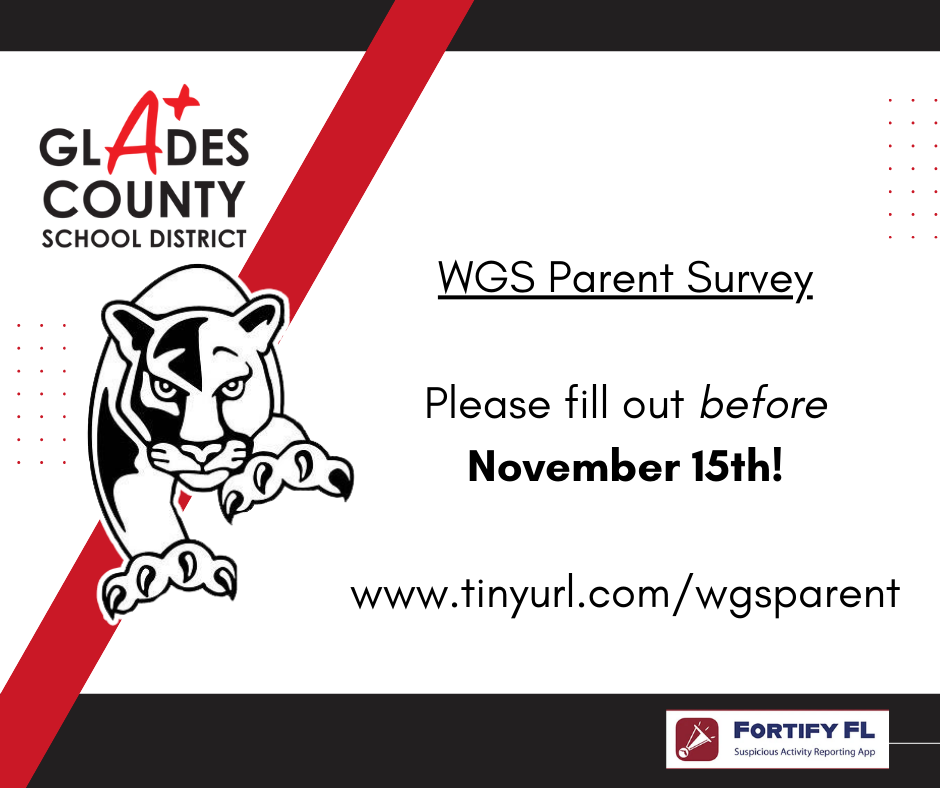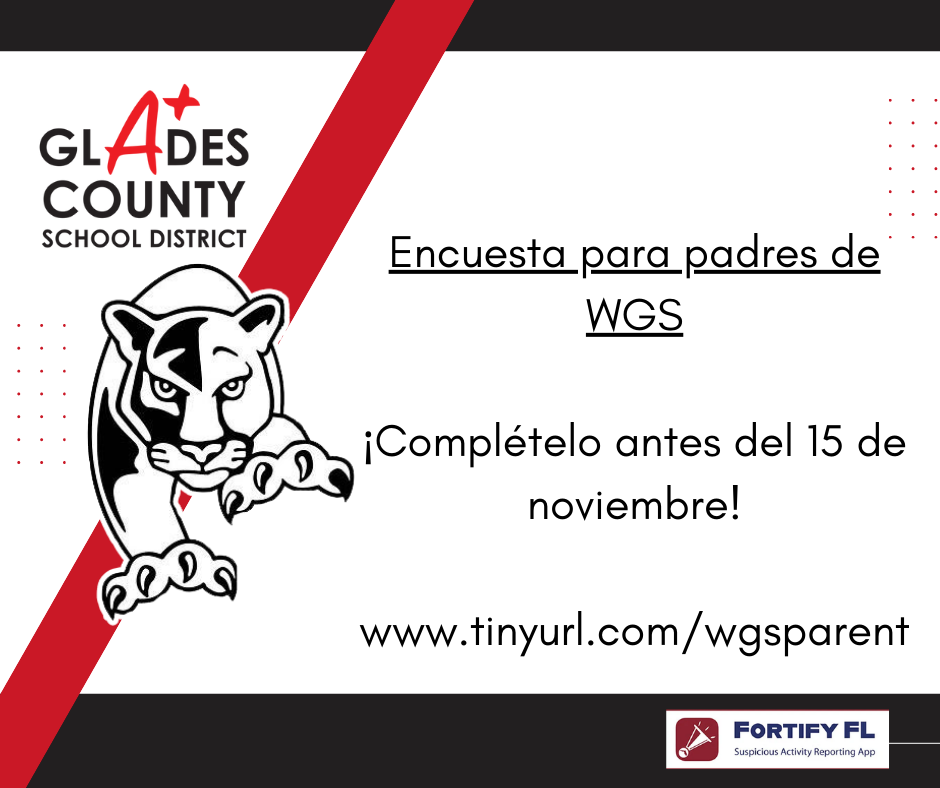 Organizational/Regular School Board Meeting Thursday, November 9th. Organizational Meeting @ 6:00pm, regular meeting immediately after.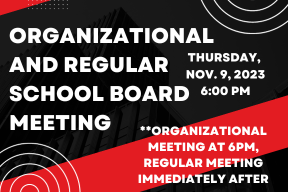 Glades County ESE Parent Advisory Council Meeting Come and join us and hear our parent presentation from Family Network on Disabilities! Thursday, November 2, 2023 In Person: 400 10th Street, Moore Haven 6:00 – 7:00pm Or Participate with our Virtual Link:
https://meet.google.com/oou-ahdn-zgz
Or dial: ‪1-415-862-0783‬ PIN: ‪491 134 789‬#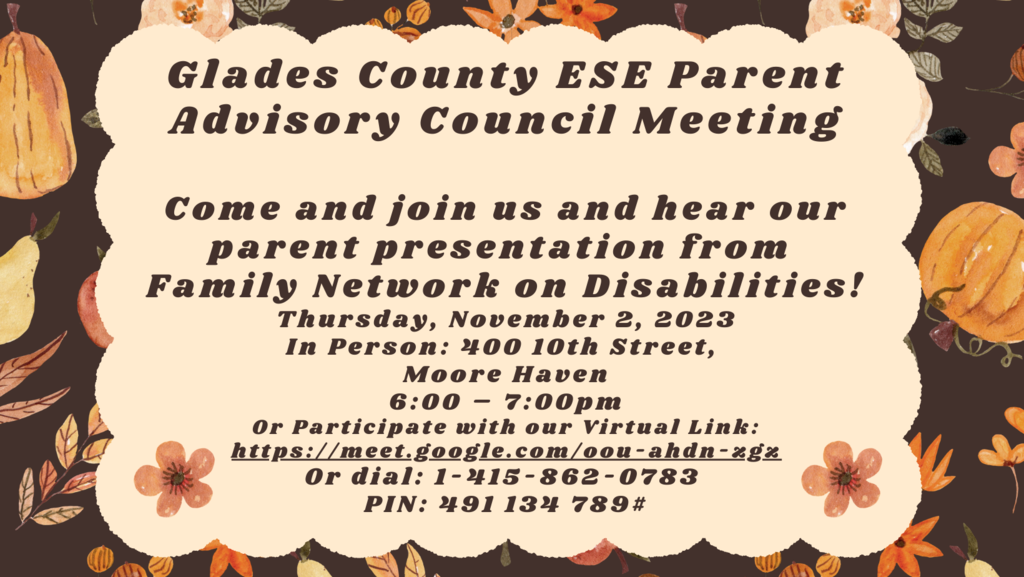 A Guest Teacher Training will be held on Monday, October 30th in the Glades County School District Office at 5:00pm. Please call us at (863) 946-2083 to sign up, or to find out more information!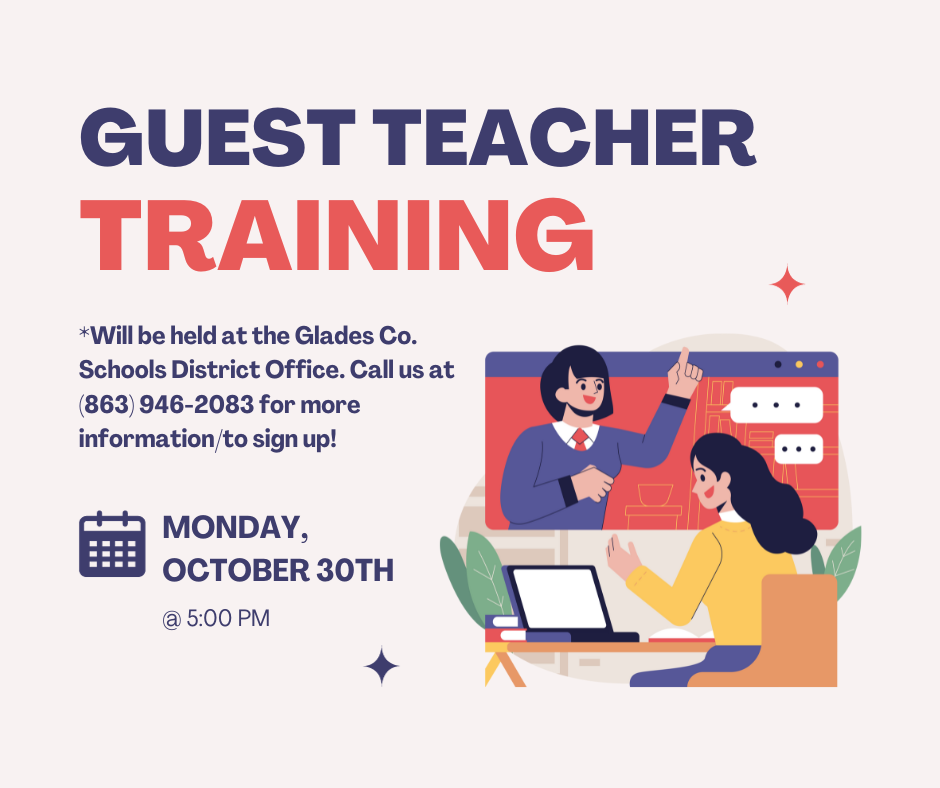 Parents, Aqua Dog is running around 45 minutes late this morning. However, the in town stops will be on time as they are being covered by another bus.

PHONE LINES AT MOORE HAVEN ELEMENTARY ARE DOWN. THEY WILL BE REPAIRED AS SOON AS POSSIBLE.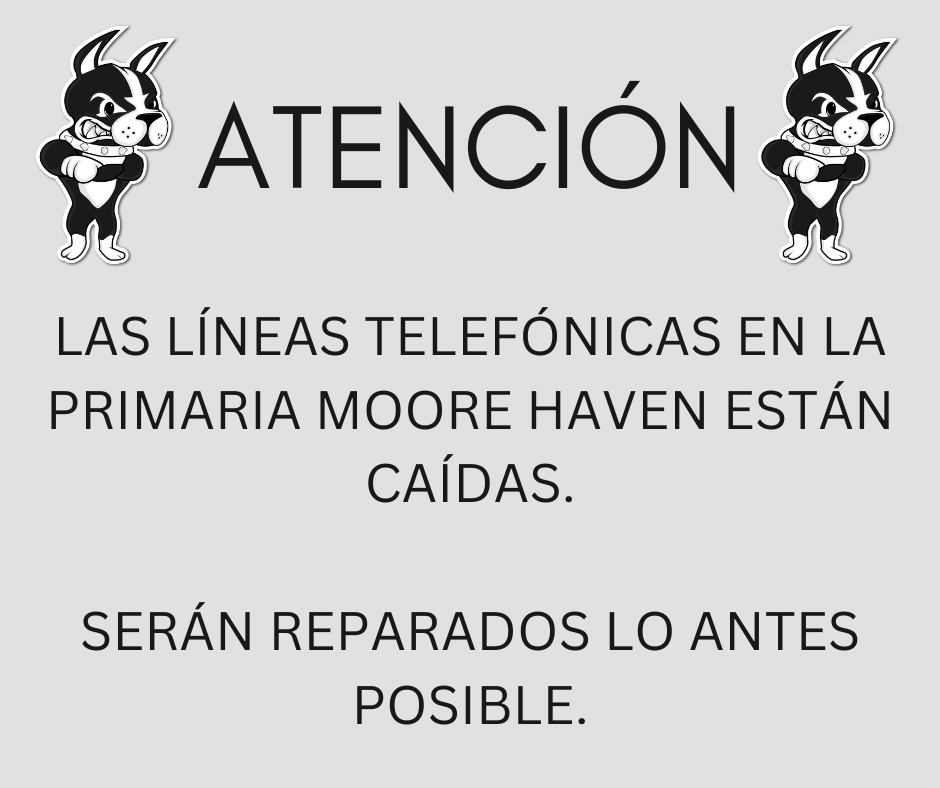 Please see the attached letter from our Superintendent for the 2023-2024 school year!
Parents, here are the Bus Routes for the 2023-2024 school year. Routes are subject to slightly change after school starts and we get new kids assigned.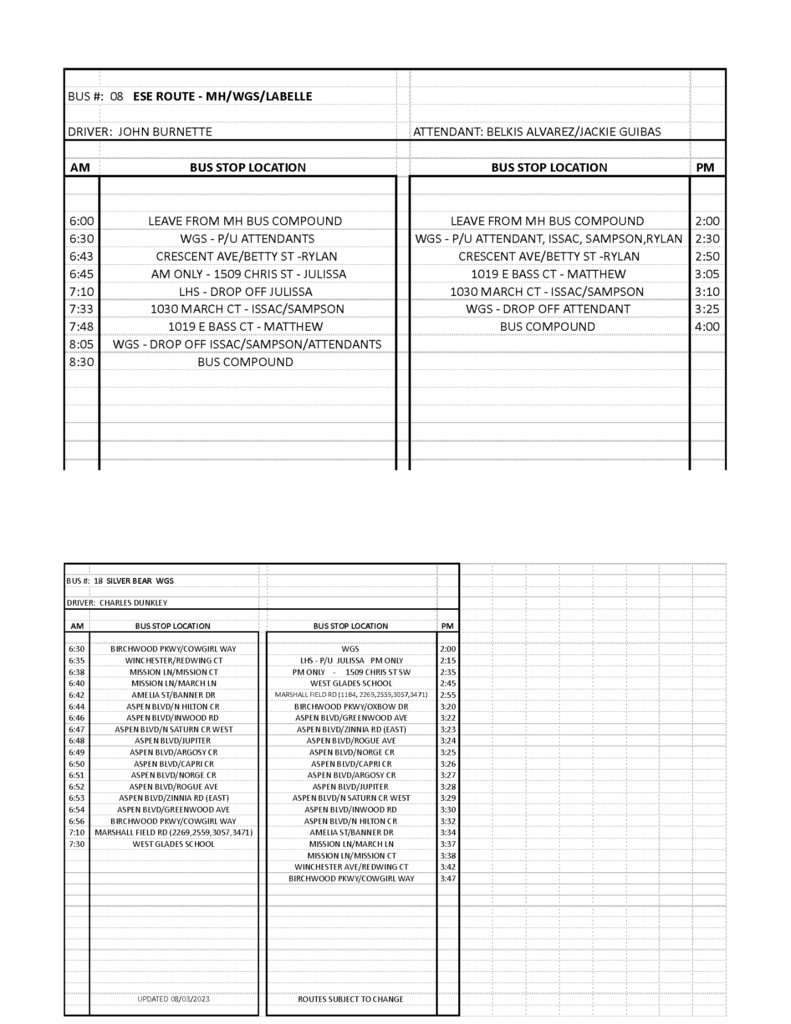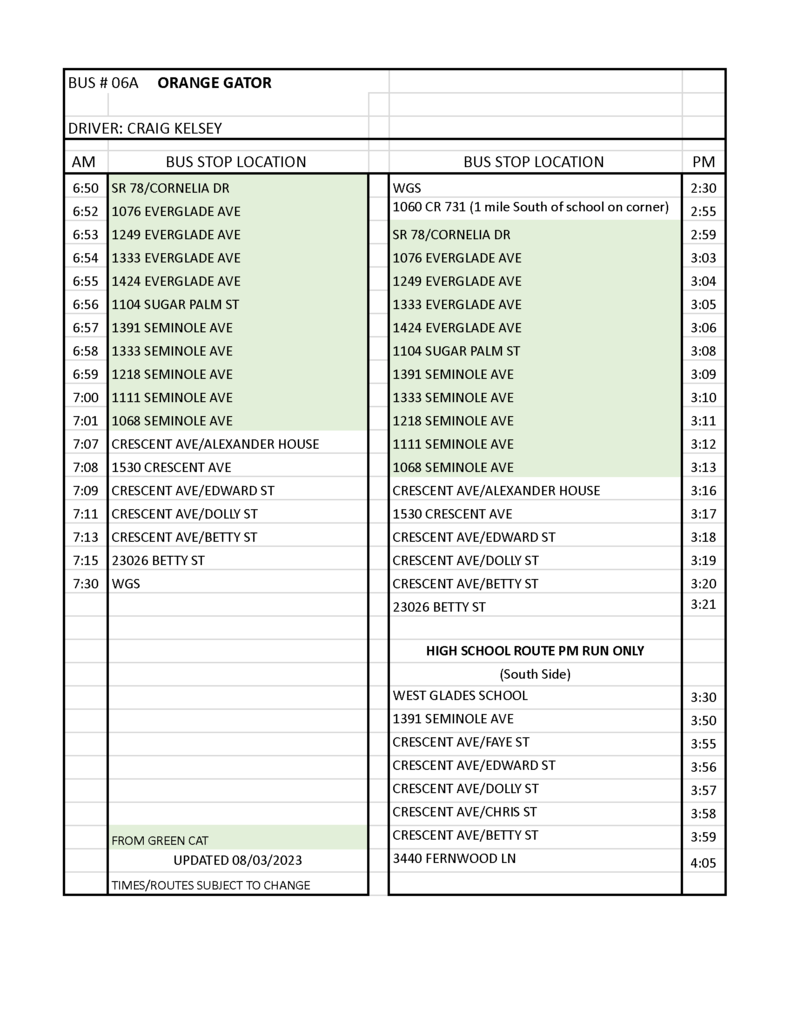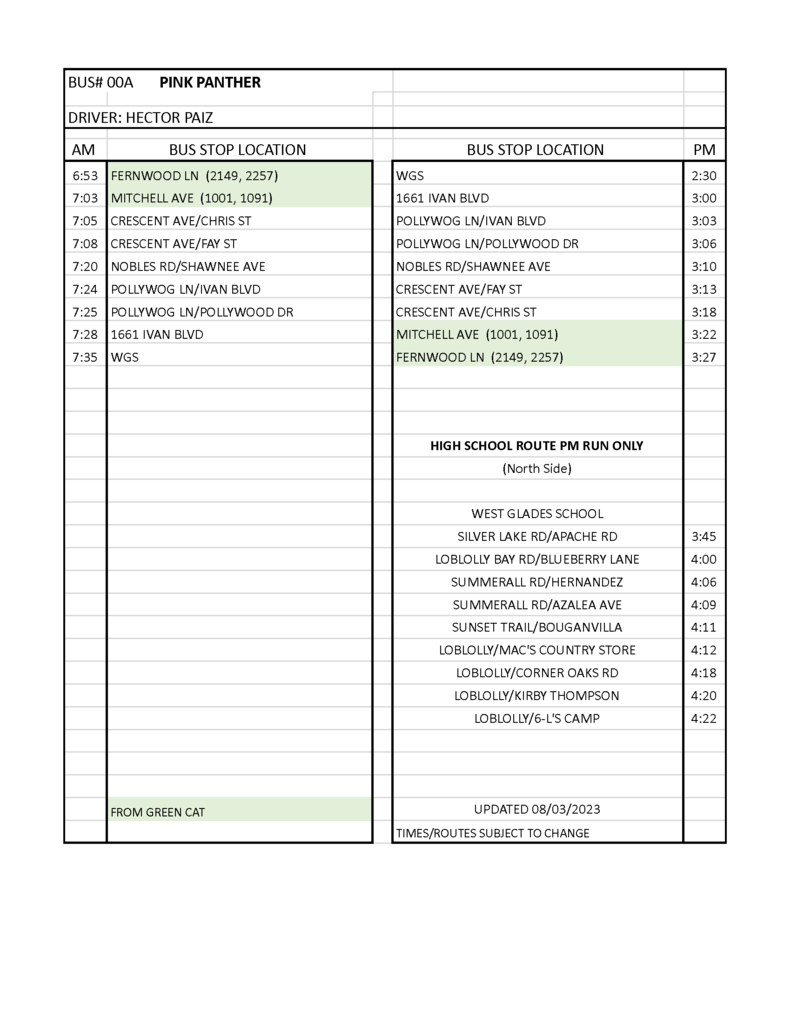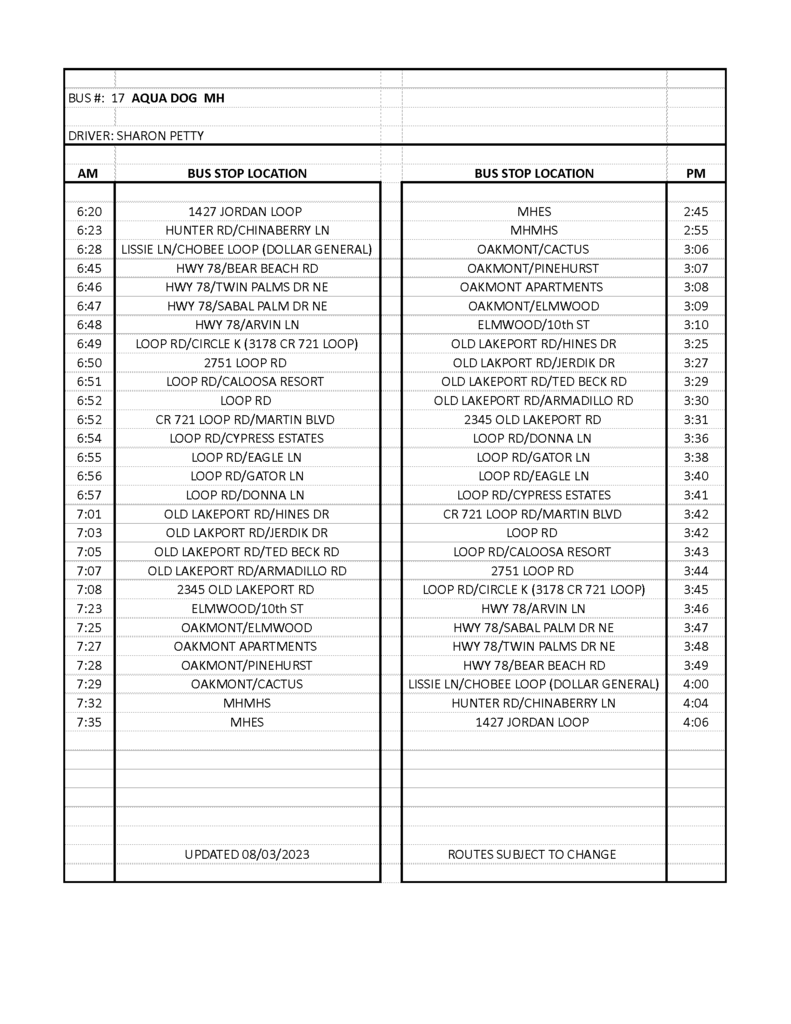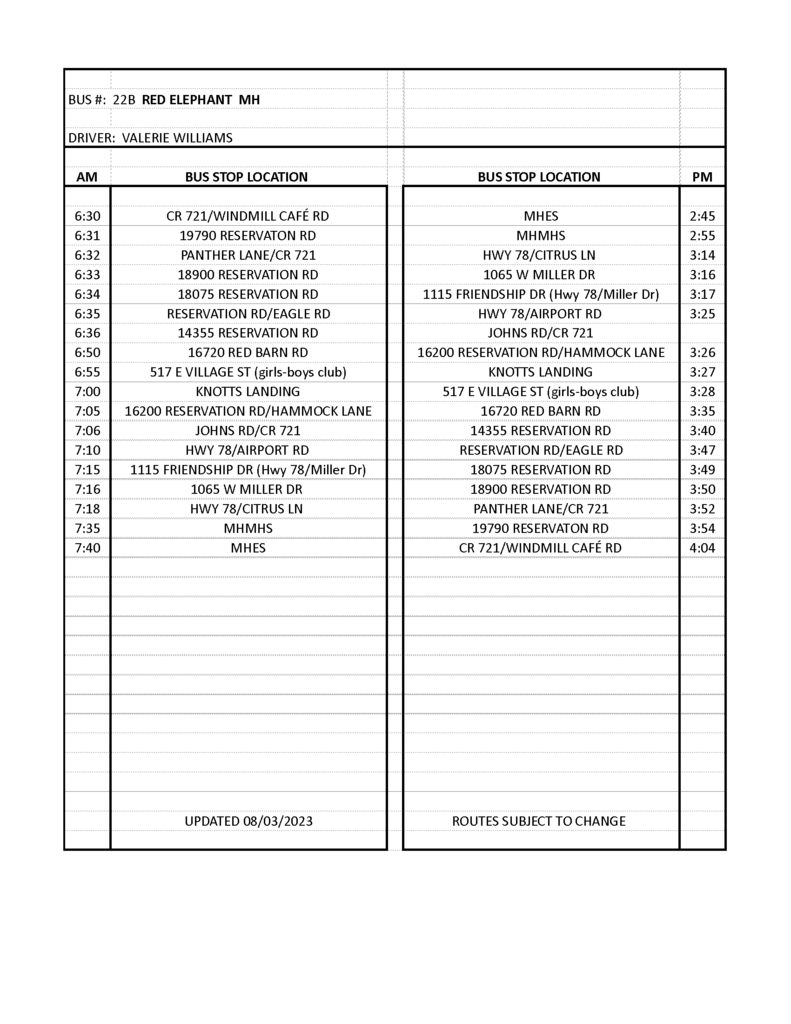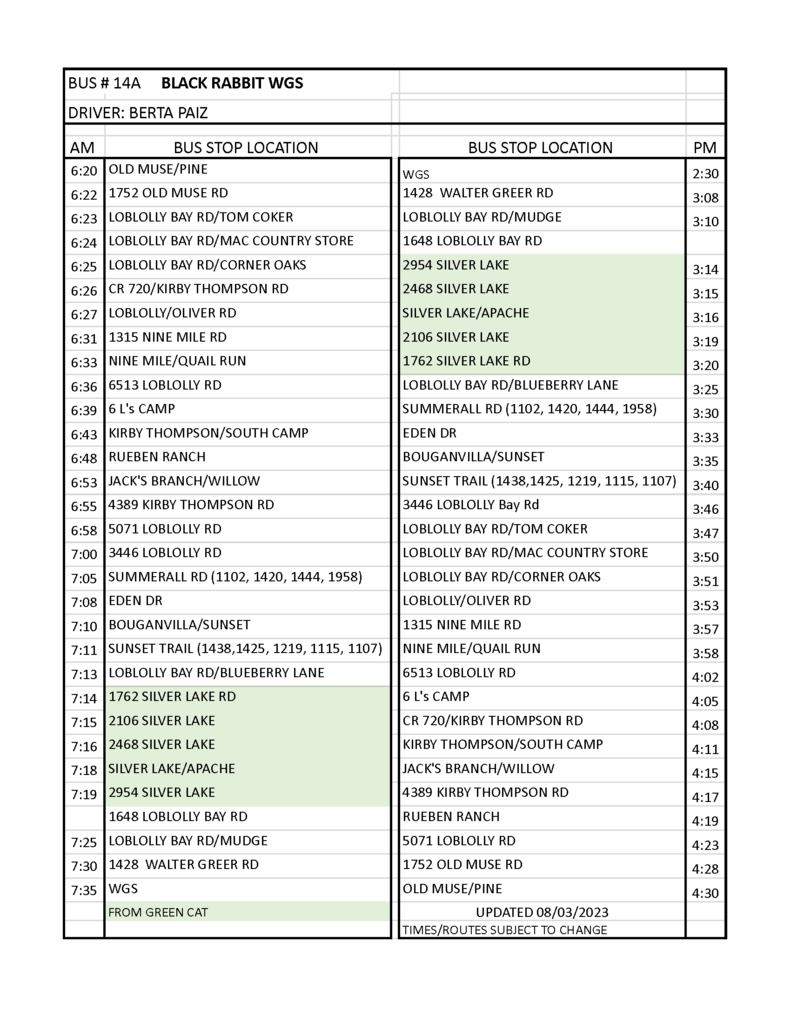 𝗔𝗧𝗧𝗘𝗡𝗧𝗜𝗢𝗡: 𝗣𝗔𝗥𝗘𝗡𝗧𝗦/𝗚𝗨𝗔𝗥𝗗𝗜𝗔𝗡𝗦 𝗢𝗙 𝗥𝗘𝗧𝗨𝗥𝗡𝗜𝗡𝗚 𝗚𝗟𝗔𝗗𝗘𝗦 𝗖𝗢𝗨𝗡𝗧𝗬 𝗦𝗧𝗨𝗗𝗘𝗡𝗧𝗦 ¡Ahorre tiempo en Get Aquainted Night completando previamente los documentos requeridos en Skyward Family Access! Todos los documentos requeridos para el comienzo del año están disponibles para que los llene en Skyward Family Access. Si no recuerda cómo iniciar sesión en Family Access, comuníquese con su escuela respectiva. ¡Esto es SOLO para familias que regresan! Si recientemente inscribió a un estudiante en una escuela del condado de Glades, ya completó estos formularios y no necesita completarlos nuevamente.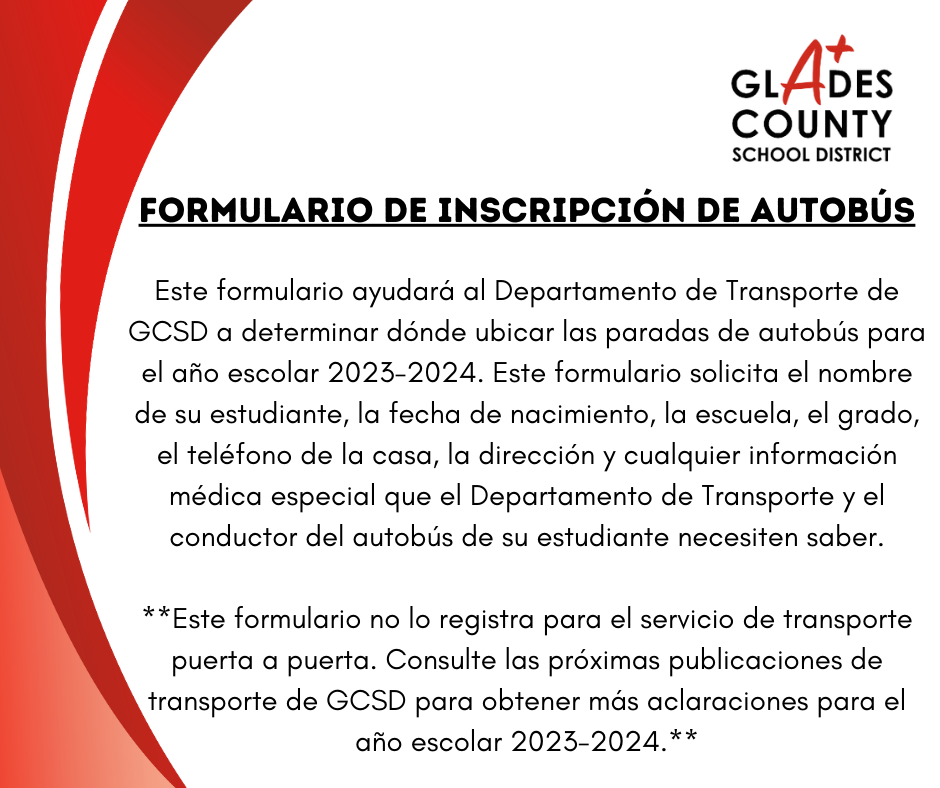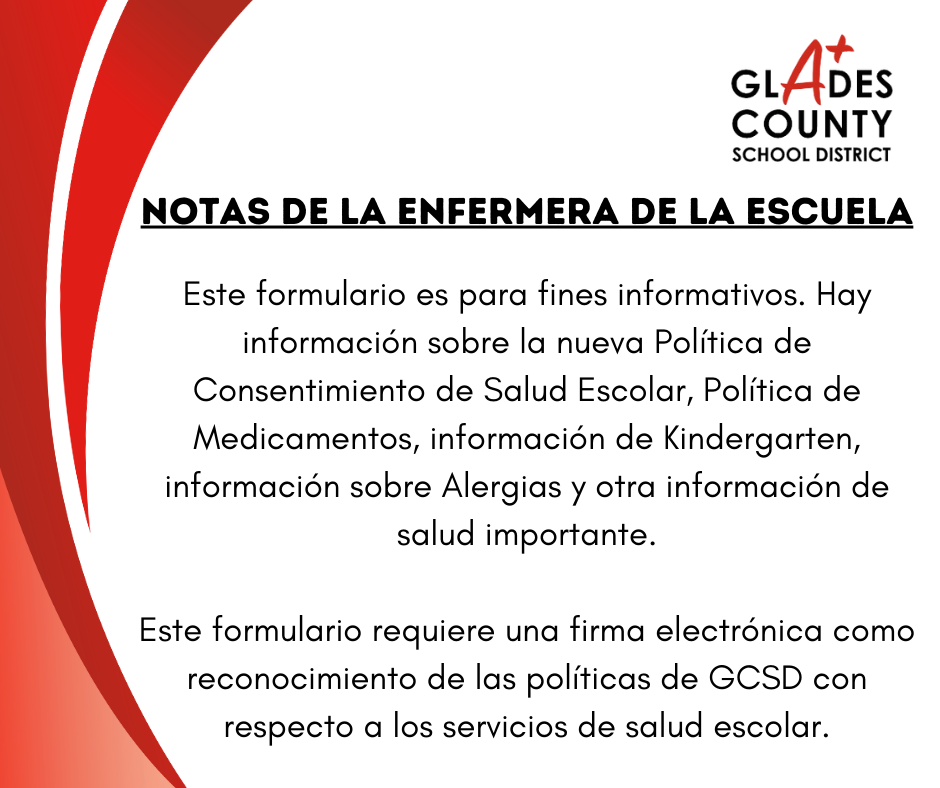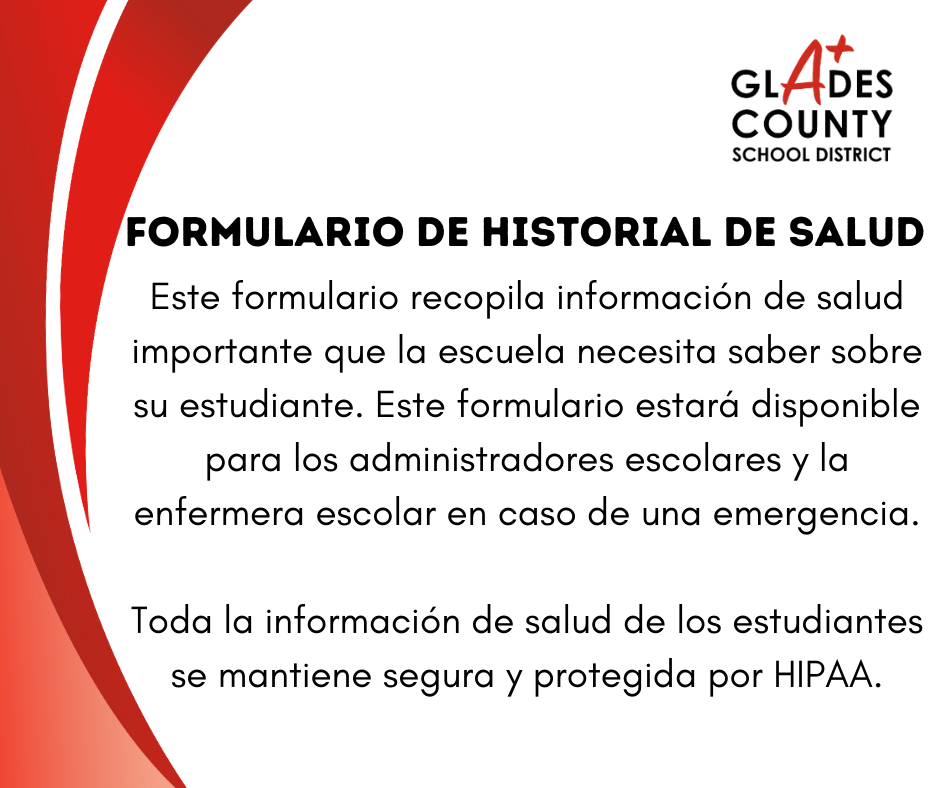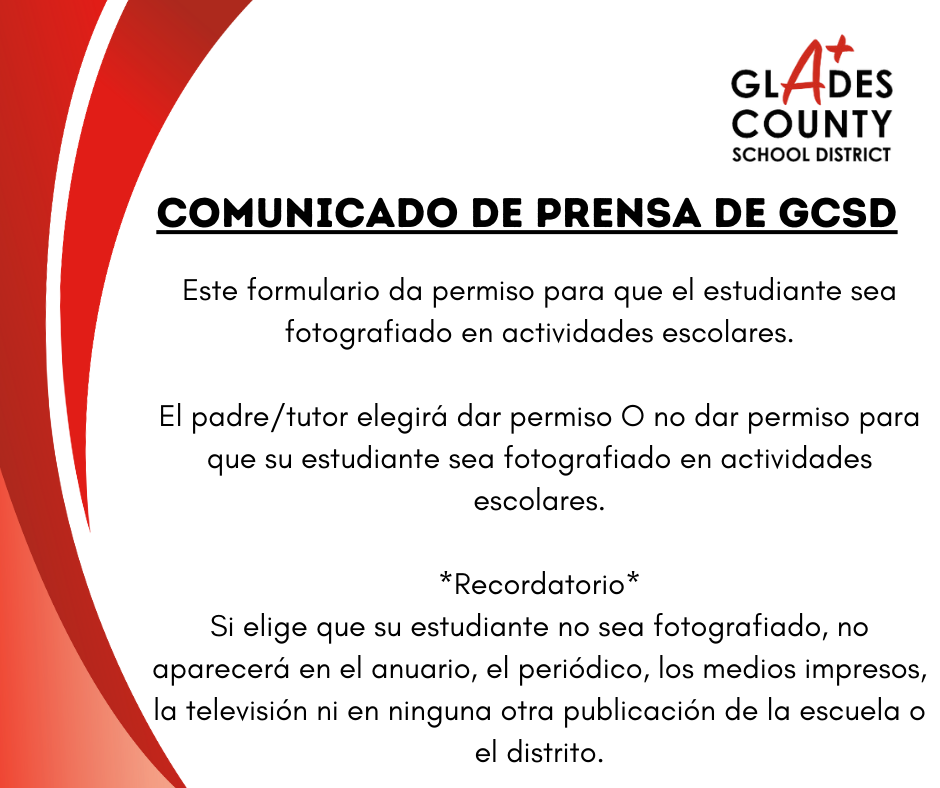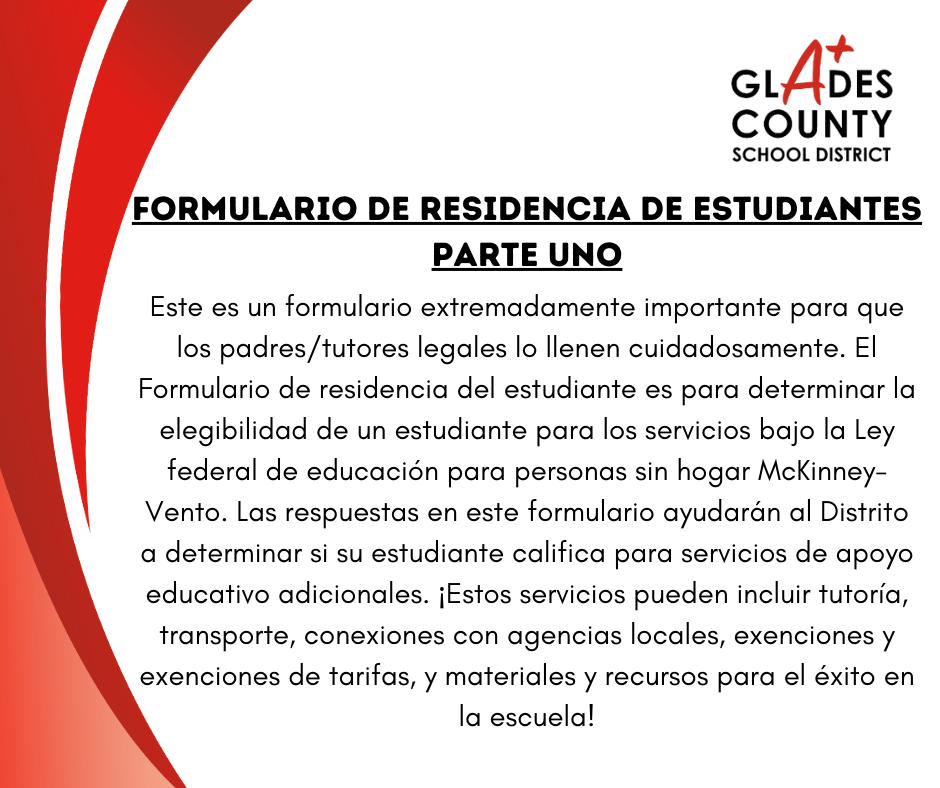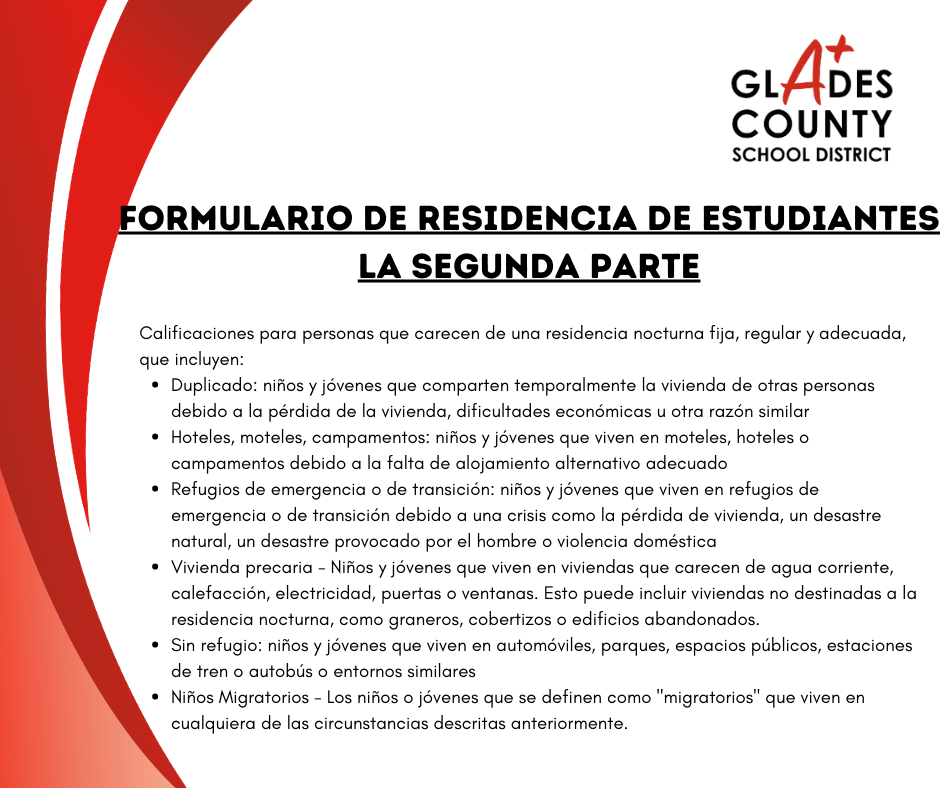 𝗔𝗧𝗧𝗘𝗡𝗧𝗜𝗢𝗡: 𝗣𝗔𝗥𝗘𝗡𝗧𝗦/𝗚𝗨𝗔𝗥𝗗𝗜𝗔𝗡𝗦 𝗢𝗙 𝗥𝗘𝗧𝗨𝗥𝗡𝗜𝗡𝗚 𝗚𝗟𝗔𝗗𝗘𝗦 𝗖𝗢𝗨𝗡𝗧𝗬 𝗦𝗧𝗨𝗗𝗘𝗡𝗧𝗦 Save time on Get Aquainted Night by pre-filling out required documents in Skyward Family Access! All of the beginning of the year required documents are available for you to fill out in Skyward Family Access. If you do not remember how to log into Family Access, please contact your respective school. This is JUST for returning families! If you recently registered a student to a Glades County school, you have already filled these forms out, and do not need to complete them again!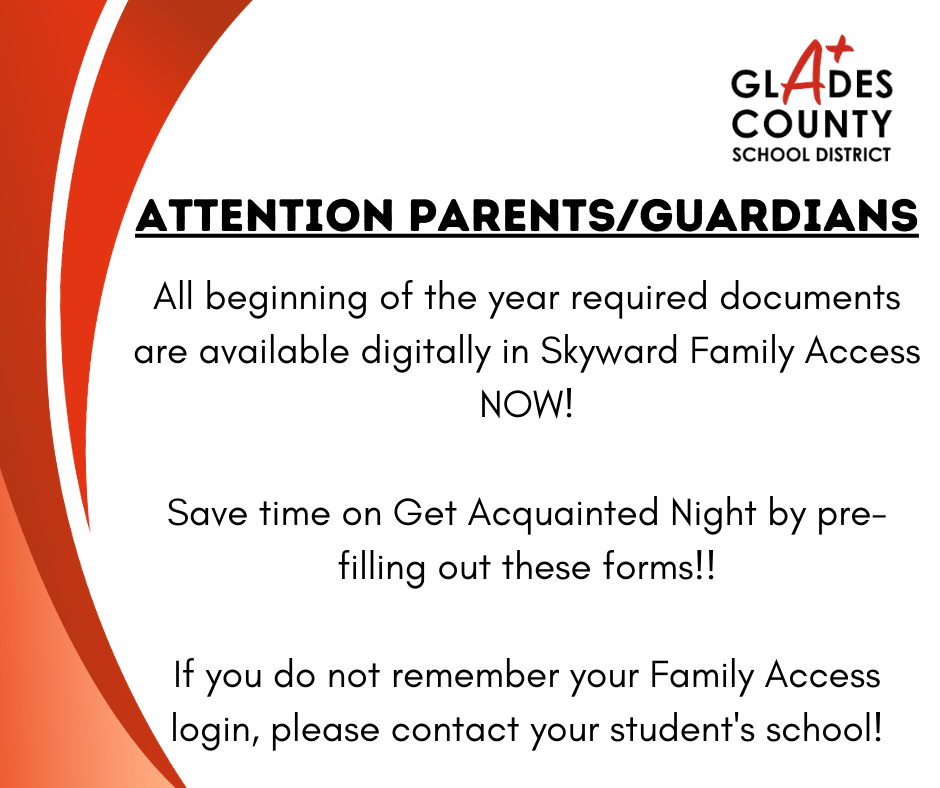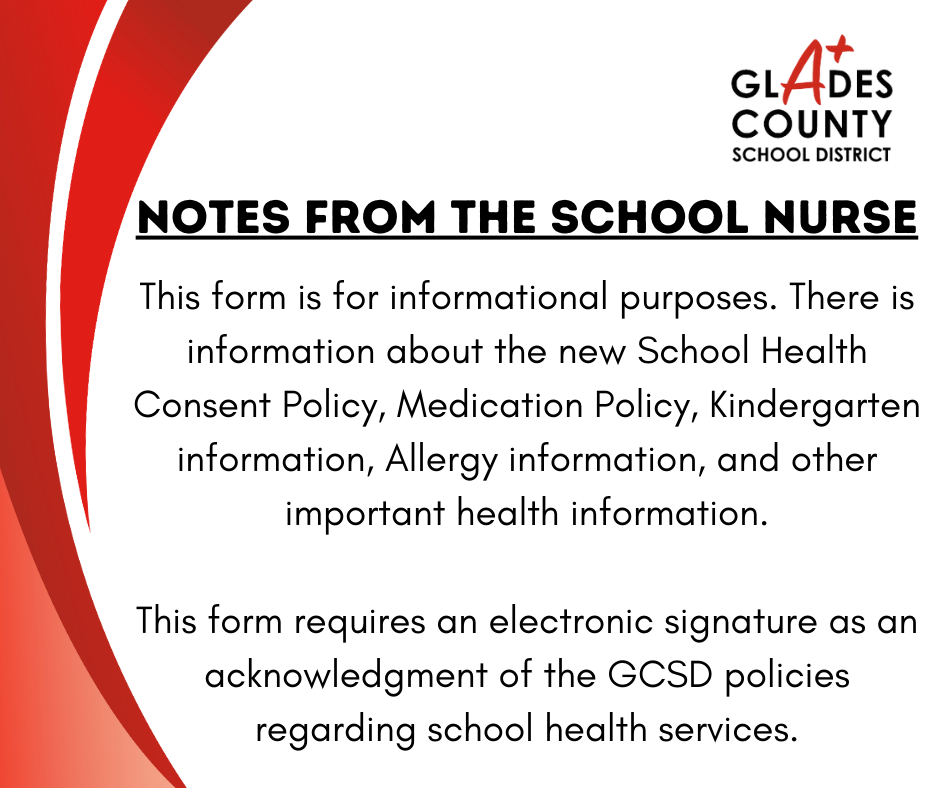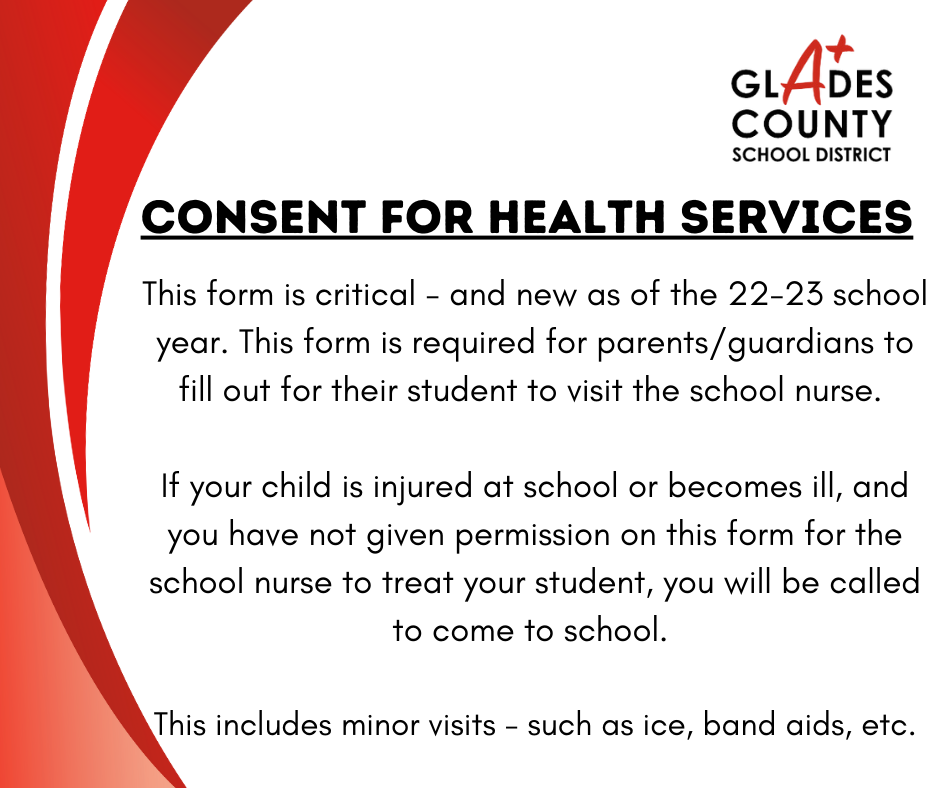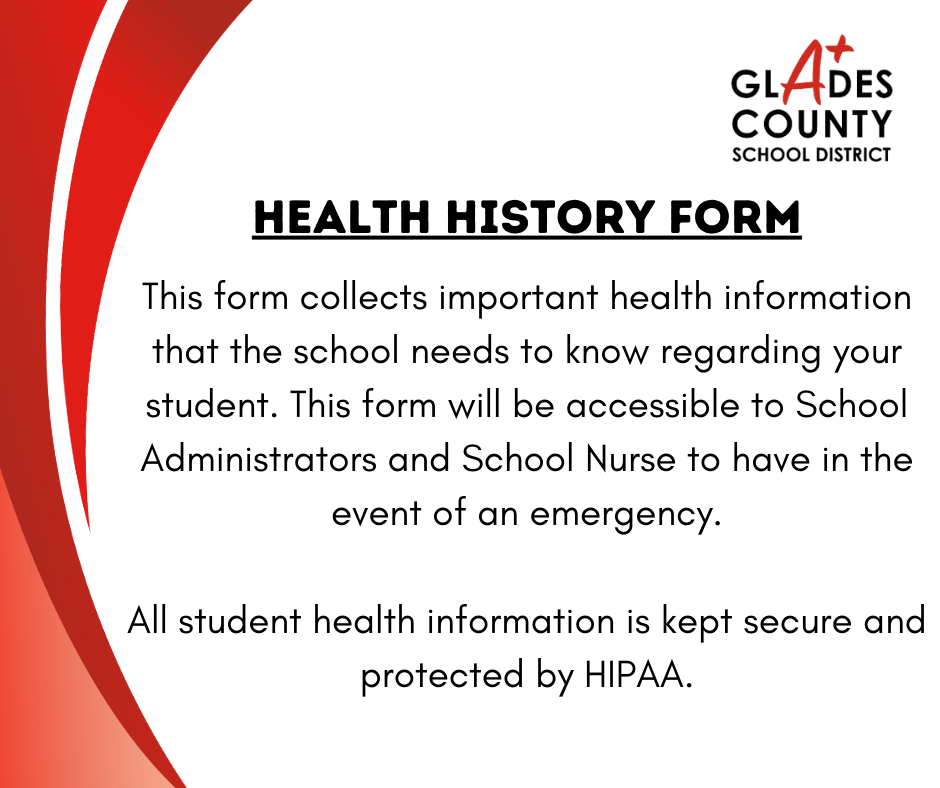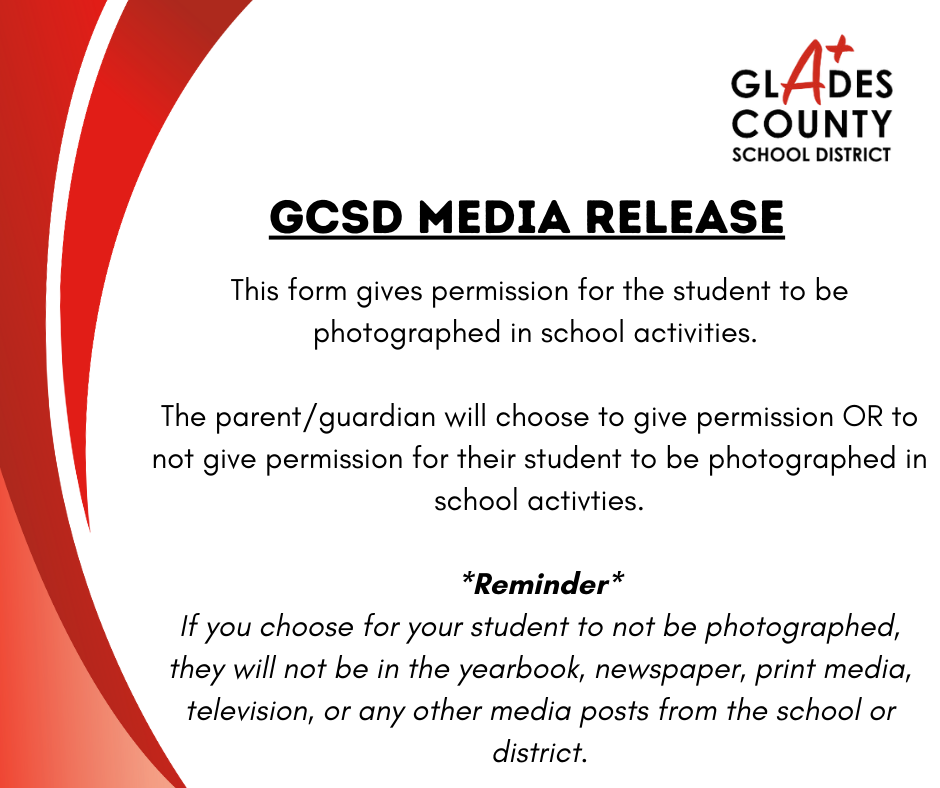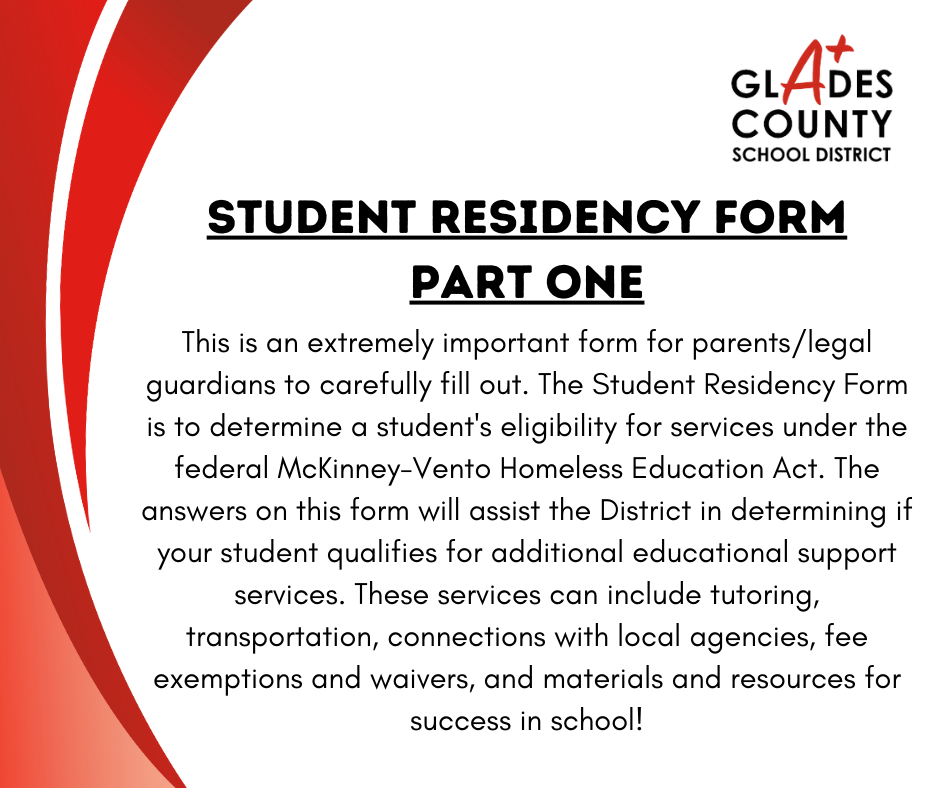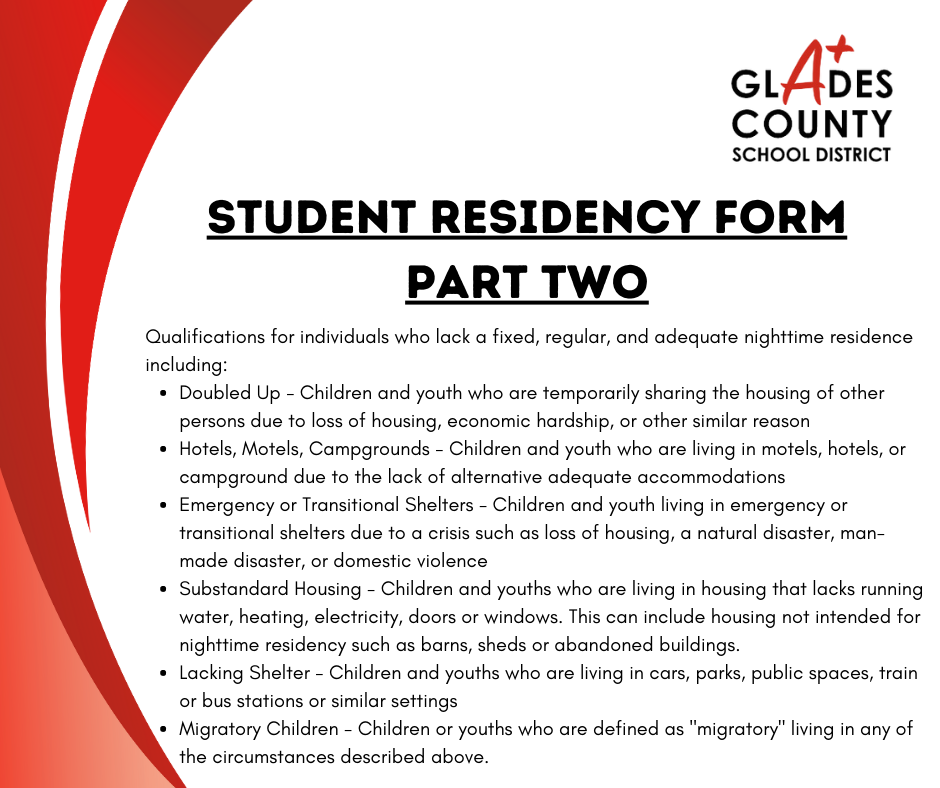 Join Florida Community Health Centers on August 2nd, & celebrate back to school with backpack giveaways for K-12 Glades county residents! Child must be present. 4:00-6:00pm @ Doyle Conner, 900 US HWY 27. For more info call 863-946-0405.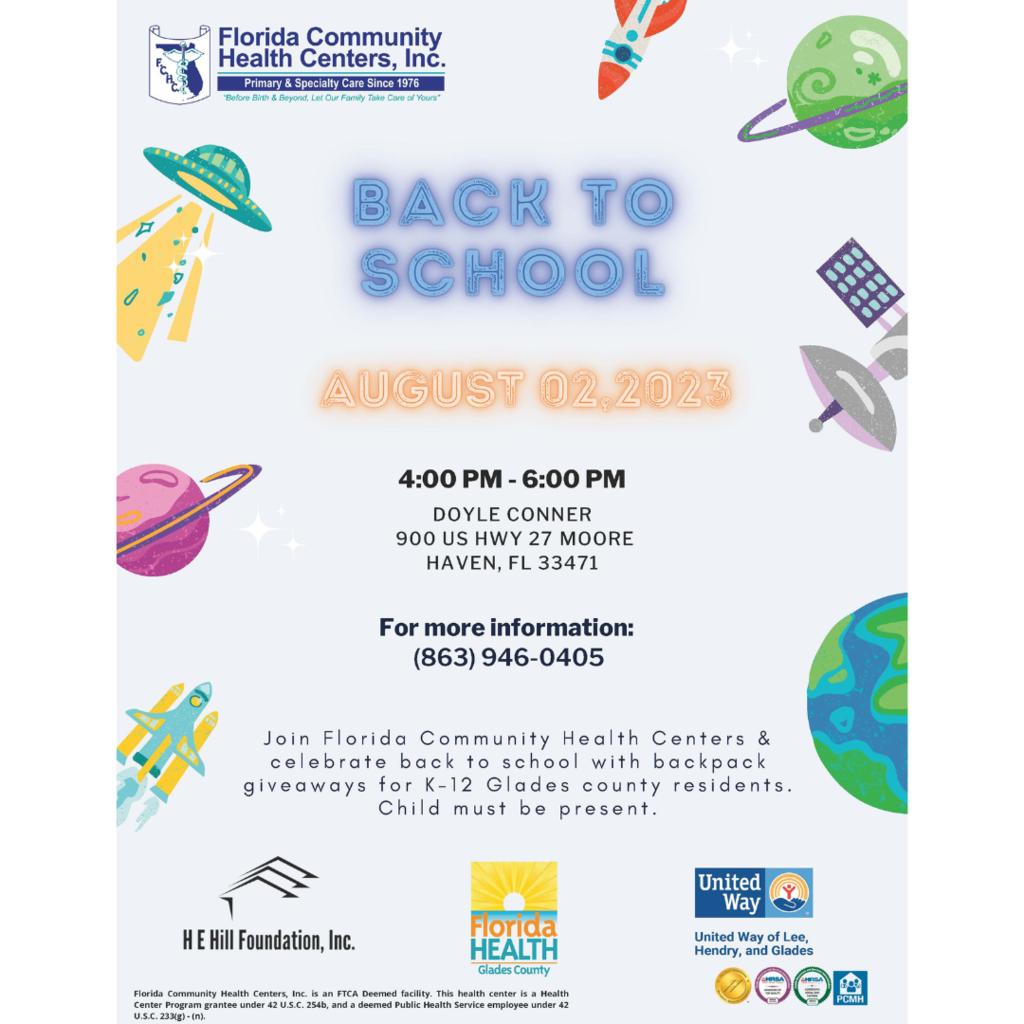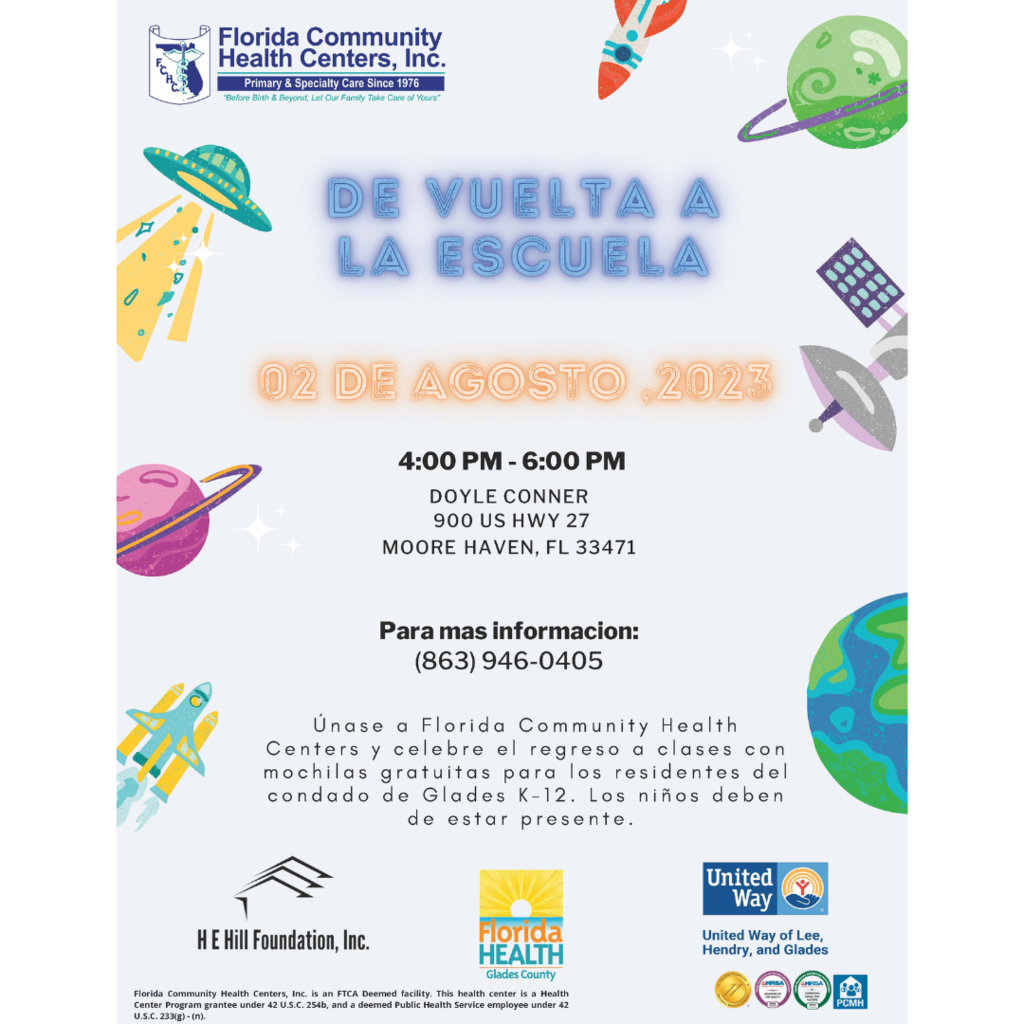 The School Board Workshop scheduled for today at 1:00 has been CANCELLED. A future time/date is TBD.
Special School Board Meeting - Tuesday, June 20th. Starts @ 6:00p.m. in the GCSD Boardroom.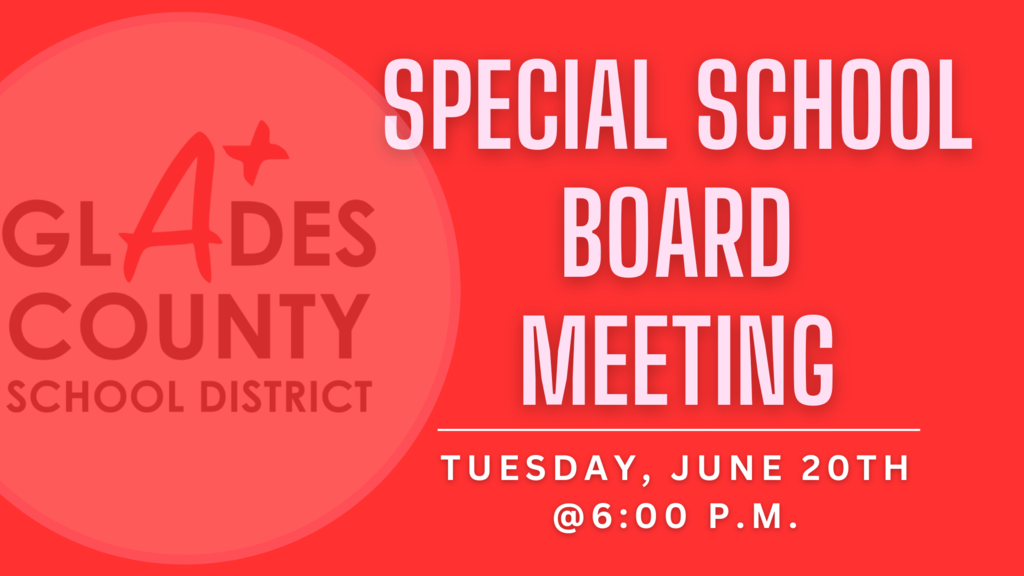 Glades County School District has moved to an online enrollment application. This application can be filled out at home, or at any school location. The process of enrolling your student is listed below. Enrollment Procedures Parent/Legal Guardian will fill out the online enrollment packet and submit it to their respective school. The school will review the packet for accuracy and completeness. Once the application is ready for processing, the school will contact the parent/legal guardian to schedule an appointment for them to bring in their required documents. If there is missing information from the enrollment packet, the school will return the application back to the parent/legal guardian via email with corrections that need to be done. It's important that parents/legal guardians check their email for updates to their student's enrollment packet. During the appointment, it's important for the parent/legal guardian to bring all required documents to the school for copies. Once all documentation has been received by the school, the enrollment packet will be completed, and the student will be enrolled in Glades County Schools. There are two ways to fill out the online enrollment packet. Parents/Legal Guardians that currently do NOT have any students enrolled in Glades County Schools will create an account to access the application. Parents/Legal Guardians that DO currently have students enrolled in Glades County Schools will use their Family Access credentials to complete the enrollment packet. Family Access credentials can be received by producing picture identification at the school. For the safety and security of student information, Family Access credentials may NOT be given over the phone. ONLINE ENROLLMENT CAN BE COMPLETED FROM HOME OR FROM THE SCHOOL.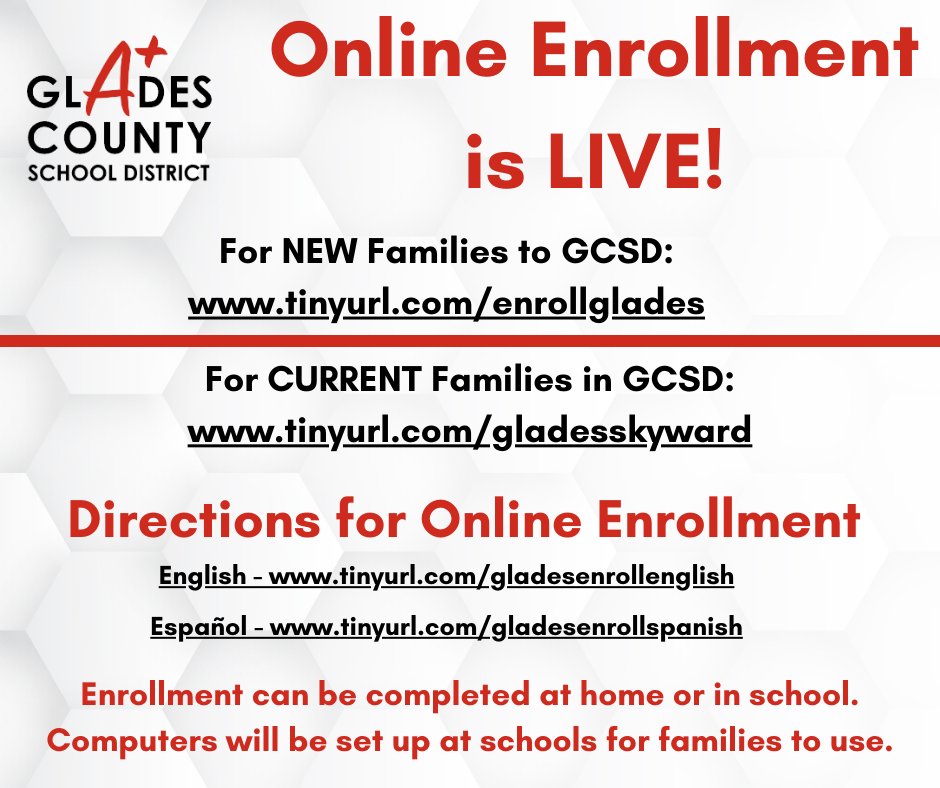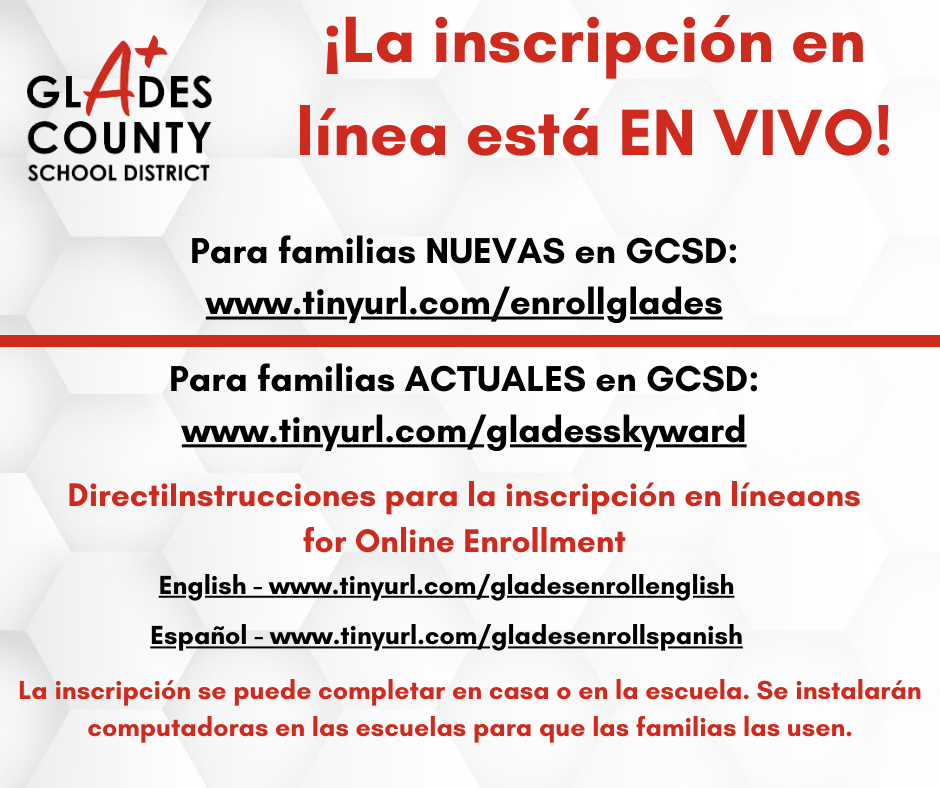 Summer School 2023 Bus Routes: Please bear with us, times will vary and there will be changes this week, as we do not know if all students will be riding or not.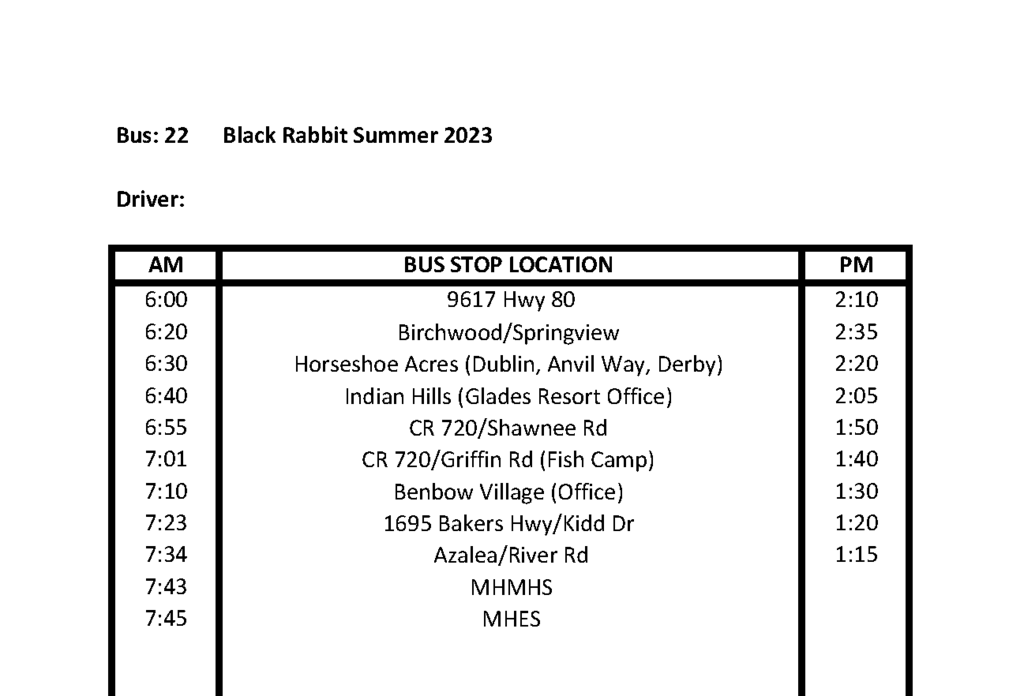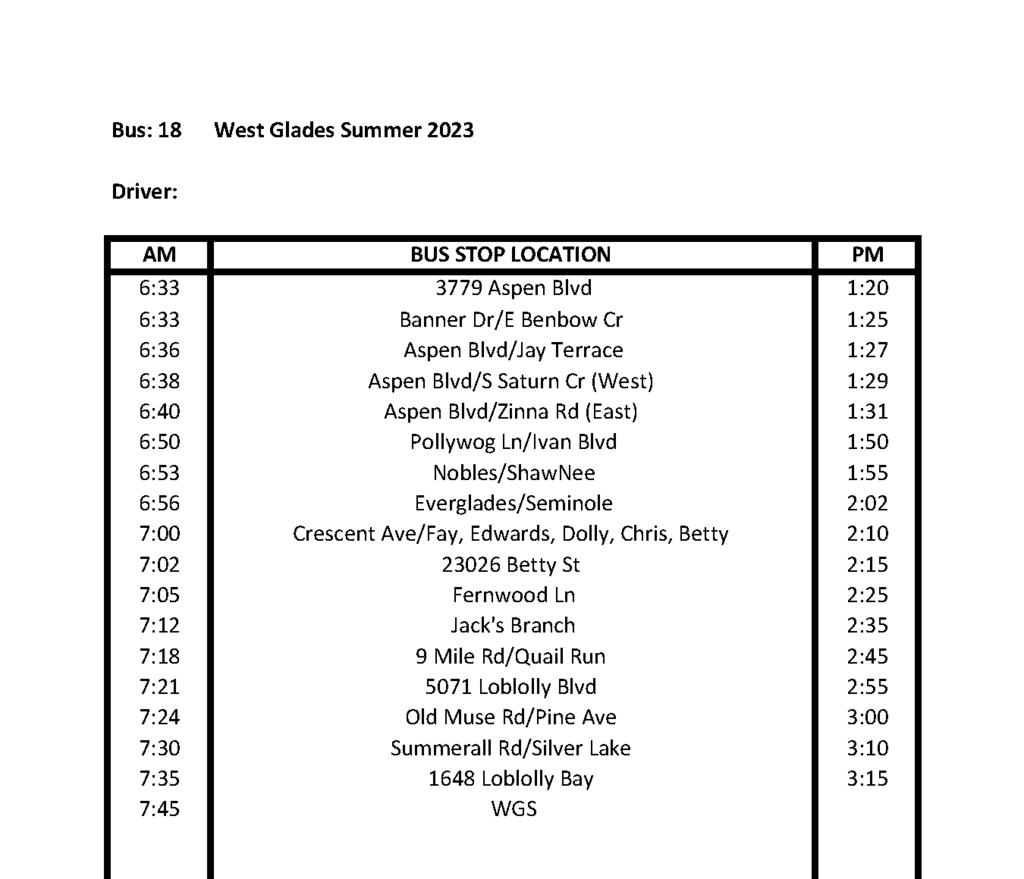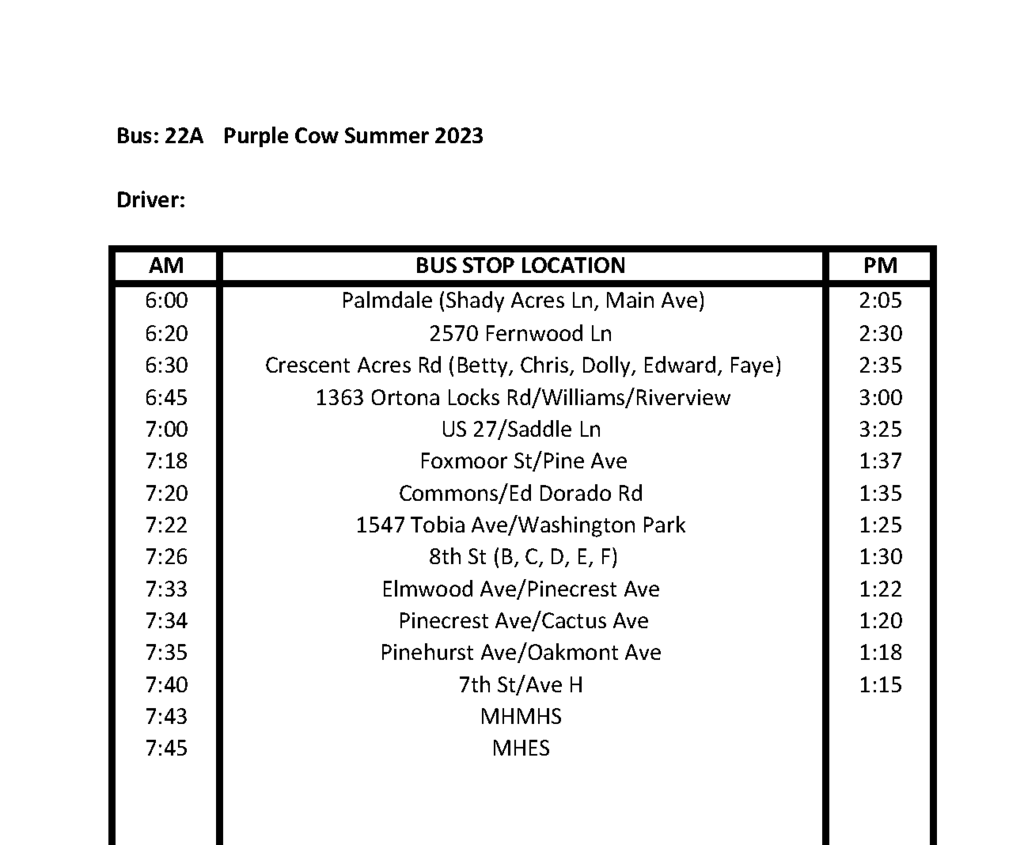 We are still unable to accept external phone calls at our District Office. Some of our equipment was damaged by lightning, and we are waiting for a replacement part. Hopefully we can get everything back up and running in the next day or so! We apologize for this inconvenience.
Calling all parents of students with Individual Educational Plans (IEPs). The Florida Department of Education wants to hear from you! Make your voice heard! Take the survey on the web at
https://www.surveymonkey.com/r/ESEParentSurvey
.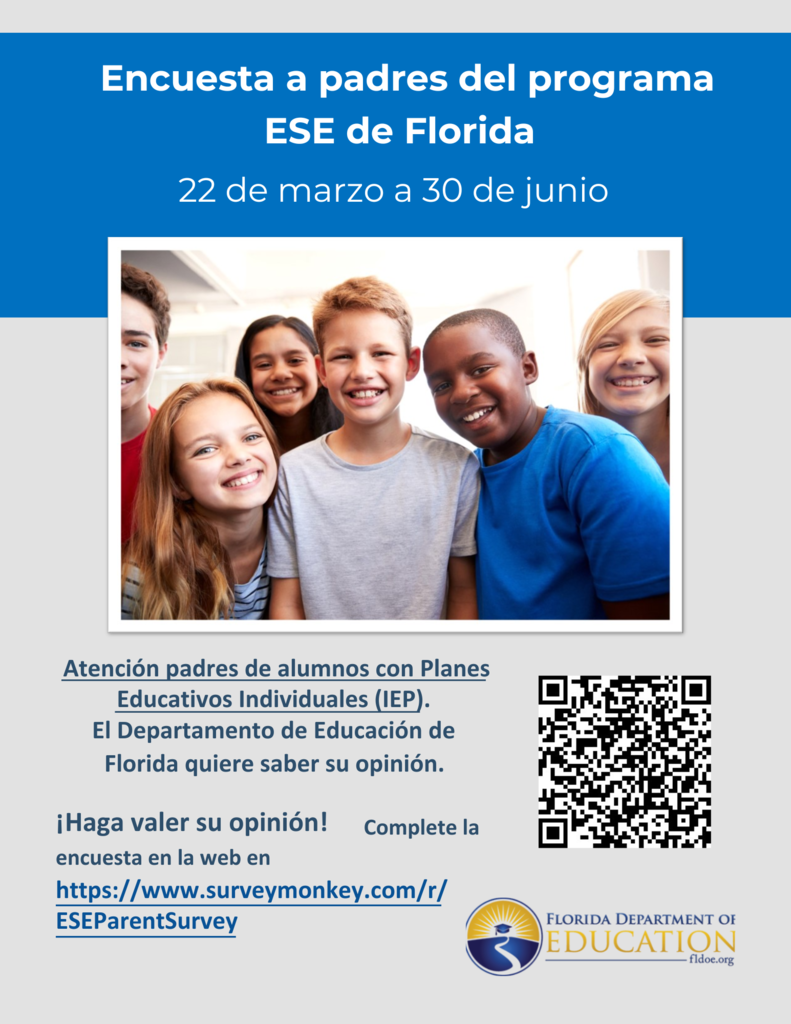 Congratulations to Mr. Jim Brickel, upon School Board approval, he will be named MHMHS's new Principal. Mr. Brickel is a passionate educator, who has over sixteen years of administrative experience. Please welcome him as he returns to the Glades County School District.